Spokane, Washington – Surprisingly Sophisticated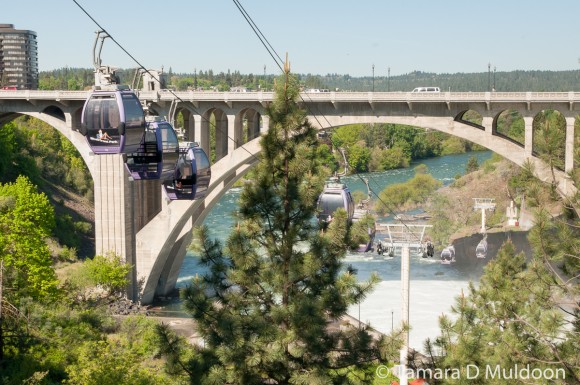 3 years, 8 months ago
Comments Off

on Spokane, Washington – Surprisingly Sophisticated
Suspended in a Skyride gondola car, we glided above the Spokane River on what Conde Nast Traveler has named one of the "Top 12 Scenic Cable Rides in the World." Below, the sight and sound of Lower Spokane Falls' incredible power during spring runoff provided a visceral thrill. How could this be the same tranquil watercourse we followed while walking through Riverfront Park earlier that morning?
This was but one of the eye-opening experiences I enjoyed during a recent hosted media tour of Spokane, Washington; the state's second largest city and pre-eminent urban center for its eastern region. Although I had visited briefly in the past, this trip changed my perception completely.
For two days, the gracious staff at Visit Spokane guided eight travel writers on an odyssey of exploration; four of us, including myself, intent on local culinary offerings, and the other four pursuing outdoor adventures. This city has plenty of both.
Spokane offers all the natural beauty and recreational opportunities of a city like Bend, Oregon; plus the distinct neighborhoods, walkable city center, arts and culture scene, a thriving farm-to-table food movement, craft beer, local wines and innovative cocktail bars of cities like Seattle and Portland.
What's more, Spokane enjoys a delightful four-season climate with over 260 days of sunshine and only 17 inches of precipitation per year. At the heart of the city is Riverfront Park, 100 wooded acres bisected by the Spokane River and featuring two spectacular waterfalls, an amusement park, playgrounds, a historic carousel, public art and miles of walking and bicycle paths including a section of the 37-mile Centennial Trail. Local outfitters offer full- or half-day adventure tours like whitewater rafting and kayaking. Or, rent bicycles for some self-guided exploration. Opportunities for hiking, mountain biking, skiing, fishing and golf are also available nearby.
When it comes to fine cuisine, craft beer, wine and spirits, Spokane can compete favorably with any major city. If anything, it has an advantage by being in the heart of some of the most productive farming and ranching land in the Northwest. The nearby Columbia Basin is a world-renowned wine producing region, while Washington State produces more hops than any other; providing a key ingredient for local craft brewers.
For Spokane's top chefs, quality ingredients, sustainability and the local food movement are more than just buzz-words. You can discover this for yourself by dining at Santé Restaurant & Charcuterie, The Wandering Table, Yards Bruncheon, Clover, Central Food, or Masselow's.  For a quick and simple meal made from quality ingredients, pop in to Fire Artisan Pizza for savory pies baked in a wood-fired oven.
To sample some excellent locally-made wines downtown, visit the Nectar Tasting Room or Barrister Winery; and for wine with a view, take the short drive to Arbor Crest Wine Cellars' spectacular hilltop Cliff House Tasting Room. If the "spirits" move you, sample small-batch craft liquors made at Dry Fly Distilling, the first licensed distillery in Washington State since prohibition.
Portland may bill itself as "Beervana," but Spokane's No-Li Brewhouse created a "Spokane Style" of brewing that has been officially recognized as distinctive by the Federal government. Relax at No-Li's riverfront beer garden or drop into River City Brewing's trendy taproom downtown; both are stops on the Inland Northwest Ale Trail.
Spokane's pedestrian-friendly downtown offers a plethora of shopping. Pick up Spokane's famous soft peanut brittle at Bruttles Gourmet Candies. Browse the shelves at independent Auntie's Bookstore – a local favorite; and for quirky gift items, try Boo Radley's. Combine shopping and sightseeing with a scenic drive to Green Bluff, where a loop route of 50 farm stands, orchards, and specialty shops offer fresh fruit, produce, food, beverages and hand crafted items. Be sure to stop at Walters' Fruit Ranch for delicious homemade pie.
Before you leave Spokane, you simply must tour the Lobby and Mezzanine of the historic Davenport Hotel – an architectural gem that will have you marveling at intricate craftsmanship from the Gilded Age. Photos and mementos display its glorious past and make Spokane's premier hotel a museum in itself.
Unless you've been to Spokane recently, you'll be surprised at how sophisticated it's become. It has all the ingredients for an enjoyable vacation, no matter what your age or interests. The friendly folks at Visit Spokane will gladly help you plan a fun-filled get-away to sunny eastern Washington.