Seaside in 90 Minutes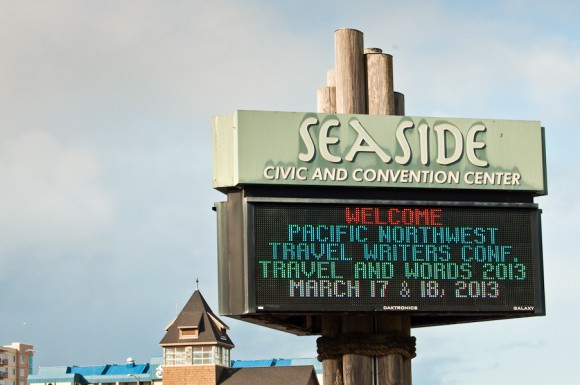 4 years, 10 months ago
Comments Off

on Seaside in 90 Minutes
Arriving at the Seaside Convention Center, I had 90 minutes before I needed to check in there for the Pacific Northwest Travel Writers Conference. Not nearly enough time for an in-depth tour of Seaside—but it would have to do. I tried, but failed to remember the last time I'd been there; which I thought was a little sad. Grabbing my day pack of camera gear, I went exploring.
The Necanicum River first drew my attention. Weak spring sunshine glinted off its tranquil surface. Below the 1st Avenue bridge, a cluster of brightly-colored paddle boats were shackled to the pier. Today the empty boats looked rather forlorn; but I could easily imagine these craft in summer with laughing tourists peddling them up and down the river in a row like so many ducklings.
Turning toward the ocean, a steady breeze drove my chilled fingers deeper into my coat pockets. I wished I'd worn my hat. Quickly I arrived at the Promenade. This broad, balustraded walkway that locals call the "Prom" extends 1-1/2 miles along the beachfront, providing the perfect strolling route together with a panoramic view of the Pacific Ocean and monolithic Tillamook Head to the south.
I followed the Prom to the end of Broadway Street and its famous turnaround where the street loops around a life-size statue of Lewis & Clark, allowing automobiles to make an easy U-turn. When I think of Seaside, I think of Broadway. It is here that many of the restaurants, gift shops and entertainment venues are located.
Meandering up the street, I ducked into the Carousel Mall and watched children and their parents twirl by on the namesake ride at its center.  Moving on, I was brought up short by a display of sea shells at a shop called By The Sea. I was drawn into the store, remembering my first visits to the sea coast as a child and how sea shells had seemed like exotic treasures to me. Indeed, this shop has an assortment of shells from around in world in delicate hues of iridescent pink and cream, and ranging in size from as tiny as a pea to as large as a head of cabbage.
Back on Broadway, as I paused to look at a store window display, a family with three young children passed by. The daughter, about 4 years old, was murmuring a soft but fervent litany "candy store, candy store, candy store." I chuckled, and then thought, "I want to go there too." Another block up the street brought me to The Buzz. Inside I found aisle after aisle of individually-wrapped candies in barrels and bins, where I chose an assortment of salt water taffy. Luscious chocolates and fudge in a glass display case tempted me, and I ogled a tray of caramel apples sporting coatings of nuts, sprinkles or M&Ms. But, having got what I came for, I headed back out to the street.
Passing by the Pig 'N Pancake restaurant, a Seaside institution, I suddenly realized that I should eat some lunch before the conference started. There was no time for a leisurely sit-down meal; I needed something quick. Two blocks up the street I found the Seaside Coffee Shop, where I ordered a grilled turkey and Swiss Panini. The coffee shop is a spacious, high-ceilinged establishment with a laid-back feel. Local residents lounged in easy chairs, chatting with one another or reading. My sandwich came quickly, and while it wouldn't garner any accolades for presentation, it was hot and savory and would get me through the day.
Comfortable like a favorite sweatshirt, welcoming like an old friend, and with enough activities and services to interest families and couples alike—that is Seaside. Walking briskly back to the Convention Center, I promised myself that I would return another day, when I could give Oregon's oldest coastal resort town the attention it deserves.
Photo credit: Tamara Muldoon