Road Trip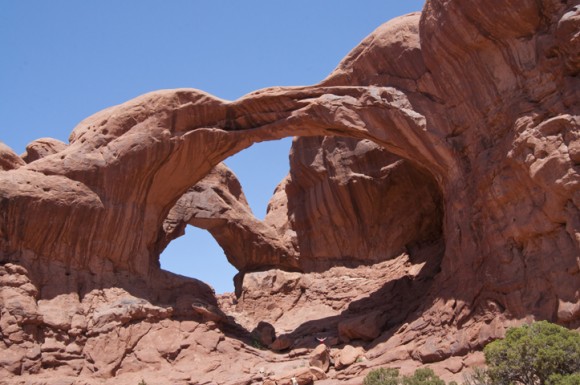 5 years, 9 months ago
Comments Off

on Road Trip
I've just returned from a 15-day road trip through the American Southwest, touring and camping with my mother. I flew to Palm Springs to meet her, and after two days of preparation at her winter quarters, we set out on our adventure.
Our home on wheels was a Dodge Ram club cab pickup with a custom-built camper canopy. Since the camper only sleeps one, I brought a small tent to sleep in. Our traveling companions were Mom's cat "Mister", and her GPS unit named "Hal" after the computer with a mind of its own in the movie 2001: A Space Odyssey.
This was the third such trip I've made with Mom. She yearned to visit some of the scenic areas in northern Arizona and southern Utah, but with diesel over $4.00 a gallon she could not afford the trip alone. So, I offered to "ride shotgun" and share the cost.
Along the way we visited five National Parks; Zion, Bryce Canyon, Capitol Reef, Canyonlands and Arches. We also toured six National Monuments and spent two days enjoying the magnificent and colorful rock formations around Sedona, Arizona.
What joy to spend the mornings hiking through areas too beautiful to describe, listening to bird song and the scrabble of lizards or squirrels among the brush! This trip was a landscape photographer's dream. I've shot over 2,000 images in the past two weeks, some of which I hope will convey the grandeur of what we've seen. But the most important thing I've gained from this journey is the time I've spent sharing this experience with my mother, and the memories I will keep all my life.
Photo credit: Tamara Muldoon
Tags: family, photography, travel
This entry was posted on Monday, May 21st, 2012 at 3:14 am
You can follow any responses to this entry through the RSS 2.0 feed.