Historic Troutdale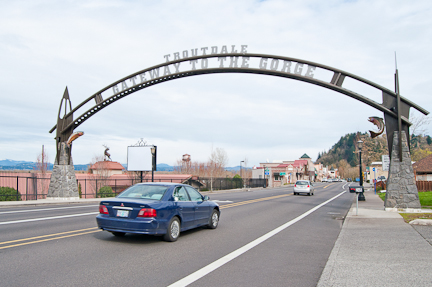 4 years, 9 months ago
Comments Off

on Historic Troutdale
Before the completion of interstate Highway 84, travel from Portland, Oregon to the Columbia River Gorge and points eastward was via Highway 30. Built between 1913 and 1922, this narrow, 70-mile scenic byway known as the Historic Columbia River Highway begins in the original section of Troutdale, where today an ornate metallic arch proclaims it to be the "Gateway to the Gorge."
It would be easy to miss this little neighborhood, hidden from view behind the Columbia Gorge Premium Outlets shopping mall. But, it is worth your time to seek it out. Named for trout ponds belonging to an early settler, Troutdale established a railroad depot in 1882 and incorporated as a city in 1907. The commercial district boomed with the opening of the Columbia River Highway, with many businesses vying for the attention of the sudden influx of leisure travelers.
When traffic was diverted to the freeway in the 1950's, Troutdale became a quiet backwater relegated to the role of a suburban bedroom community for Portland. The city eventually sprawled across hillside and plateau with more than 2,000 acres of housing developments and strip malls. Still, the tiny fragment of historic Troutdale remained and has enjoyed a renaissance in recent decades.
Seeking a destination for an overnight getaway in our 19-foot motor home, my husband and I selected the Sandy Riverfront RV Park, located on the West bank of the Sandy River. The facility offers spacious full-service paved sites surrounded by lawn, with free Wi-Fi, cable television, as well as a clubhouse, restrooms, showers and laundry room. The primary attraction for us, however, was its proximity to historic Troutdale, just a short walk away.
Arriving around mid-day on a Sunday, we got settled into our assigned space; then wandered into town. Strolling slowly along the street to the Gateway arch; then back along the opposite side, we checked out the assortment of businesses there. Visitors will find a selection of food and beverage vendors, along with a variety of shops and professional services.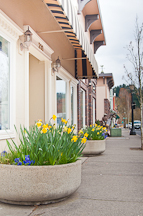 There is a curious dichotomy of old and new or renovated buildings.  The north side of the street is better developed, with attractive storefronts and flower-filled planters. The opposite side, however, lags behind with some unkempt structures dating to an earlier era. Metal sculptures dot the landscape along the five-block commercial district and are featured in a small community park.
Not much was open this particular Sunday except a few restaurants, drinking establishments, and an antique store. After debating the available options for lunch, we chose Siam Sushi; serving Thai and Japanese food. Thirsty after our walk, I welcomed the tall glass of chilled water with a lime slice that was promptly brought by our server. We selected three appetizers—the fresh salad rolls, chicken satay and a sushi sampler.
The fresh rolls were the plumpest we'd ever seen; nearly bursting through their delicate, translucent wrappers. Filled with seafood bits and crisp lettuce that crunched with every bite, and accompanied by a spicy peanut sauce possessing the perfect balance of sweetness and fire, the fresh rolls were a delight.  Tender grilled chicken satay on bamboo skewers dipped in peanut sauce sated my appetite.
An unexpected surprise, considering the unassuming exterior of the restaurant, was the artistic presentation of the sushi sampler. The stark white rectangular plate held eight different pieces, arrayed in soldierly rows along with a dab of wasabi paste. My husband, Tom, ate every bite.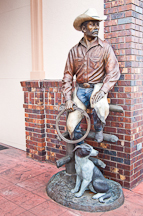 Moving down the street, we stopped to admire large bronze sculptures of a moose, and a cowboy with his dog positioned outside of an art gallery. A little further along, we stepped into Brewligans Tap Room to follow up our meal with a pint of beer. Sitting on a sofa the in back, we thumbed through some past issues of 1859 Magazine, while other patrons watched a college basketball game on the TV.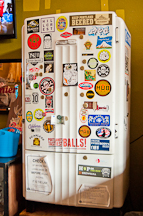 Later, we slipped into the Troutdale Antique Mall and wandered its two floors of glassware, paintings, housewares, jewelry and other bric-a-brac. There were so many items crammed into the display cases that it was difficult to take it all in.
At the end of the street, the Depot Rail Museum was unfortunately closed; a good excuse to come back another time. After reading the historical marker and taking a close-up look at the caboose train car on the grounds, it was time to call it a day. Although historic Troutdale is only a half-hour drive from home, we felt like we'd truly gotten away and discovered another of Oregon's unique destinations.
Photo credit: Tamara Muldoon