Getting Myself Into Hot Water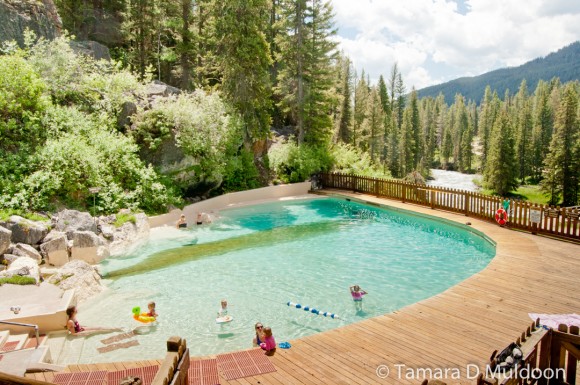 3 years, 11 months ago
Comments Off

on Getting Myself Into Hot Water
Once again, I'm aiming to get myself into hot water. No, I don't mean that euphemism for trouble; I'm talking about geothermally warmed H2O. I've long been an aficionado of hot springs and seek them out at every opportunity.
Over the past four years, my mother and I have taken a series of road trips, traveling and camping across the western United States. We've visited many National Parks and Monuments and seen some amazing places. And, we've made a point of finding hot springs along the way.
Last summer, while stopping over in Jackson Hole, Wyoming, we discovered a delightful hot spring pool about an hour's drive south of town. Using some vague directions begged from a local, we eventually managed to find the turn-off from the main road. After driving seven miles up a canyon over a dusty, bumpy gravel road, we spotted the weathered wooden sign announcing Granite Hot Springs.
Hot mineral spring water gushes from the hillside into a man-made swimming pool, surrounded by a wooden pool deck. The small office, changing rooms and pit toilets are maintained by a concessionaire under the auspices of the U.S. Forest Service. All around, sharp-ridged mountains rise above you; their slopes felted by evergreen trees. And below, Granite Creek roars down through the rocky canyon and flows away into the distance. It was an idyllic place to spend a few hours of our afternoon.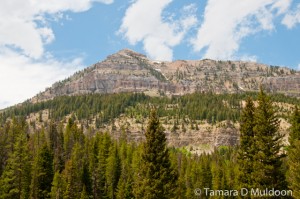 Later on this same journey, we camped at Lolo Hot Springs Resort in western Montana. Mom had once brought her parents here on a similar camping trip many decades ago. At that time, they camped in a meadow; and the hot springs were only a rustic, rock-lined hole-in-the-ground. Now, the resort boasts a campground with RV sites and cabins, a hotel, restaurant and bar, plus a bathhouse with both indoor and outdoor pools.
After setting up camp, we headed for the outdoor pool. We'd barely gotten ourselves wet when the attendant came and said we needed to move inside due to a threat of thunderstorm. Indeed, we'd seen some ominous clouds and heard a few distant rumbles. The indoor pool was smaller, but hotter. It felt great. But, before our skin had a chance to get puckered, we were informed that lighting had been spotted and the pools must be closed.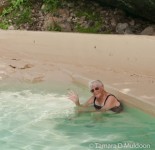 The next morning, we hit the pools again as soon they opened. At this time of the morning, we had the place practically to ourselves. Since the resort had changed so drastically from Mom's earlier visit, it was a new experience for both of us.
Now, I'm planning our next journey—a week-long odyssey amidst the central Oregon Cascades, known as a hot bed of geothermal activity. And of course, long, leisurely soaks at hot springs must be part of the itinerary.