Bicycling to Brewpubs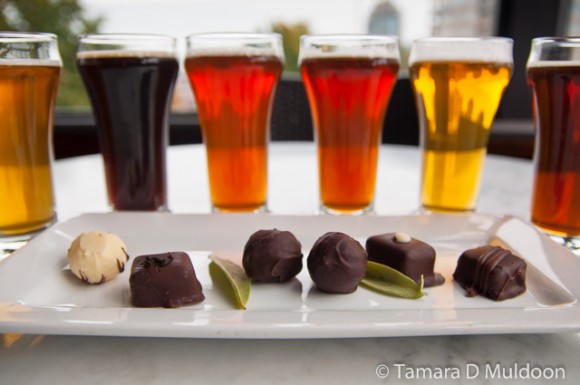 3 years, 7 months ago
Comments Off

on Bicycling to Brewpubs
The Pacific Northwest is renowned for its love-affair with craft beer and its bicycle culture. The Pedaler, a bicycle rental and tour company in Victoria, B.C. has combined these two fascinations into one attractive package; the 3-hour "Hoppy Hour" ride featuring brew tasting by bicycle in downtown Victoria.
While traveling on Vancouver Island last October, my husband and I had the opportunity to experience this tour. It was great fun and not as potentially hazardous as it sounds. Much of the route was on bike paths or quiet streets, and the focus was on tasting – not drinking – the beers. Our tour guide pointed out interesting sights and regaled us with bits of historic lore as we wove our way around and across Victoria's renowned Inner Harbor to visit two brewpubs and a bottle shop.
Spinnakers, Canada's oldest brew pub, was our first stop. There we sampled six brews along with six handmade chocolate truffles. Although this sounds like an odd combination, it was surprising good together. At Moon Under Water, four unfiltered German-style beers were proffered for our tasting enjoyment. Lastly, at The Guild, a flight of three current on-tab offerings were served along with some tasty hot appetizers.
Although I'm not much of a cyclist (yet), I thoroughly enjoyed this tour which was suitable for anyone who can ride a bike – fit or not. If you're visiting Victoria, I highly recommend one of The Pedaler's tours. If beer is not your thing, they also offer one that includes coffee tastings and baked goods. Or, just rent a bike and create your own tour.
My article about this adventure has just been published in the July/August 2014 issue of Northwest Travel magazine, which should be hitting the newsstands very soon. I invite you to pick up a copy and read more about it.
Planning Your Visit:
Tourism Victoria, www.tourismvictoria.com
The Pedaler, www.thepedaler.ca
Dining Recommendations:
Famoso Neapolitan Pizzaria, www.famoso.ca
Canoe Brewpub, www.canoebrewpub.com
Lodging Recommendation:
Best Western Plus Carlton Plaza, www.bestwesterncarltonplazahotel.com