About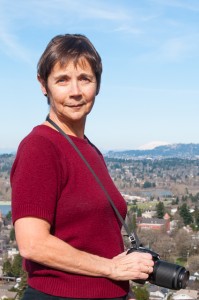 Tamara Muldoon is a freelance writer, blogger and photographer based in Portland, Oregon. Her work has appeared in a number of print publications, including Northwest Travel & Life, Meeting News Northwest, Via, Portland Business Journal, and Around Town magazines, as well as on websites such as Tom Harper River Journeys, Amras Cruises, CruiseMeet.com and Charleston Lifestyle Guide.
Tamara's interest in photography began with a class in high school but truly blossomed when she bought her first camera in the 1980's.  Her favorite subjects include landscape, travel and food photography.  She also shoots stock images for advertising and editorial use. Tamara's analytical mind appreciates the technical challenges of photography while her creative side strives to capture the esthetic qualities of a subject.
From America's national parks to the jungles of Belize, from temples in Japan to vineyards in South Africa, from European capitals to the American Southwest, Tamara has had the good fortune to travel and photograph subjects throughout North America and abroad.
Tamara has always been attracted to the arts.  In addition to photography and writing, she has explored many art forms including drawing, painting, collage, floral crafts, needle crafts, playing guitar, choral singing, dancing and acting. When she is not working, Tamara enjoys gardening, reading, cooking, travel and visiting with friends and family.
"I am happiest when doing creative work", says Tamara.  "It is an essential part of my life.  I have always loved using art to communicate emotions, ideas and information to others."
Tamara D. Muldoon, Writer | Photographer
Office:  503.631.3929 Mobile:  503.998.2722 Email:  tamara@tamaramuldoon.com   Click here for my
Resume